You are here
Thay Rodrigues: get to know the DJs overcoming story that represents Brazil in the US
Thay Rodrigues has increasingly shown his talent in the electronic scene. In a relaxed and exclusive interview for DJane Mag Brazil, the DJ and music producer, who will launch feat with DJ Jesus Luz and Netto DJ, opened up about her personal life, new projects, the beginning of her career, the artistic scene in times of pandemic proving why she is a rising artist.
Born in Paulista, in the state of Pernambuco, with the baptismal name Thaylane Rodrigues, the 26-year-old girl now lives in Houston, Texas, in the United States. she is a resident DJ of Essential Clubbers Radio, an online radio based in the UK. Graduated in Tourism, she never thought about giving up her music career.
The DJ's first opportunity in the USA was at the Bauhaus Houston nightclub, thanks to Koma Salazar, founder of Concepto EDM, a big events agency in the United States. Since then, she hasn't stopped. she was so successful that Thay Rodrigues later became the club's resident DJ. There she also opened the show for several renowned DJs, both national and international, such as: Nasser Baker (New Jersey), KVSH (Brazil), NETTO (Brazil), Jesus Luz (Brazil), Raul Facio (Texas), Stacy Kid (Chicago), Layton Giordani ( New York), Roger Sanchez (Miami), Kristen Knight (Miami), Stacey Pullen (Detroit) and Koma Salazar (Texas). In addition, she has played in different North American cities and states, such as Austin, Dallas, Houston, Detroit, Orlando, among others.
"As a teenager, I went through many traumas, from an abusive relationship with attempted murder, to psychological torture."
To have her dream come true, Thay Rodrigues had to give up many things. For more than three years, she had to work on business and focus on completing her degree in Tourism. At the time, she couldn't follow through with DJ's plans, however the dream always remained alive. One of the solutions she found was to study music production, since she didn't have any DJ equipment yet, but had a laptop. And so began to give life to new productions under the name of Yukionna, her first Alter Ego, where she released BRAUZK a collab with the UK music producer and record label owner Ovylarock.
The artist has increasingly become a familiar and inspiring name in the electronic music scene. Anyone who follows her, knows that the DJane has pursued her career with mastery. In addition to having a lot of stories to tell, Thay Rodrigues revealed an incredible new!
When did your passion for electronic music and your career start?
The dream started when I was just 14 years old when I went to my first electronic music event with my sister. "I saw" electronic music making people happy and that was amazing for me.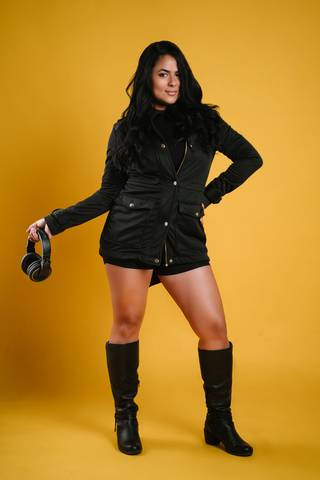 Since that moment, I couldn't stop thinking about how I could be part of that world. Then I found IMEPE (Institute of Electronic Music of Pernambuco), through my friend Willian Anderson. So, I signed up for beginner DJ classes with Renato Aguiar in 2014. As I come from a simple family, I couldn't keep paying for the course and I couldn't continue in the other modules. Luckily, I met DJ Luiz B. who was tirelessly dedicated to teaching me what it takes to be a good DJ and since then, my career has started to happen.
With DJ Luiz B, after developing the necessary techniques, we started a partnership and started Undermusic Productions, in order to provide event services. Then we originated the Tech'n'Deep Club, an underground music event – ​​Tech House, Deep House and more – being then the first event I played in several editions.
"The first time playing to a crowd, after months of social isolation, was amazing! People longed for this moment."
What were the challenges to get where you are now?
I came from a very simple family and we have been through many difficulties. I learned to be independent from an early age. When I was 12 years old, I started to work, I had the dream of living in the United States and I understood that if I didn't make an effort, I wouldn't be able to change the reality of my family. Working from an early age, I managed to save money to pay for my studies, as I needed to work and could not try for a scholarship at the public university, which was very far from my home and work.
As a teenager, I went through many traumas, from an abusive relationship with attempted murder, to psychological torture. I was threatened if I mentioned my dream of leaving the country. Scars on my body still portray what I went through, but it all made me a stronger and more determined woman. I knew that none of this would stop me and that one day I would be able to share my story and victory with the world.
In 2019, already graduated, thanks to the great support of my ex-boyfriend and best friend Kassiano Fidelis, who was a very important person during my career, I finally started my process of moving to the United States. I came to Texas, where I have lived for almost three years now. My first experience here was as an Au Pair, cultural exchange in which you work for an American family and can choose what to study. In addition to studying Marketing and Entrepreneurship, at Harvard Business School and Project Management at Houston Community College, I was finally able to focus and start my musical career all over again.
Tell us what do you have for the fans for the coming months.
There are a lot of good things coming out there! I have four new songs to release, three with the Immed Solutions label. You can expect partnerships with DJ Jesus Luz; with the singer Denise Buckle directly from Malta, Europe; Netto DJ and Jessica Dellazeri. Also, two of these releases will have video clips, which I believe will make people talk about it  (laughs). One of them will be released with with Jesus Luz and the other with Netto DJ.
How has your sound changed over the years?
I identified that with the years of EDM (Electronic Dance Music) I started to like and produce melodic house and tech house music. I used to like more heavy sounds with high BPM, but now I like more of a quieter type of sound, like melodic house. Still I can't help but loving a good tech/techno Detroit style.
Which artists inspire you?
Throughout my career, many artists have served as inspiration and many will still do. I can talk about inspirations like DJ Avicii for his trajectory and history as a whole, as well as the music producer, entrepreneur and DJ KVSH, who served as inspiration when I started to produce my own music and I had the pleasure to meeting in person.
How has the coronavirus pandemic affected your personal life and career?
My professional life was more affected than my personal one. Since we were still able to perform live on social media, I believe that, internet was a strong ally during those unprecedent times. Taking it personally, I believe the pandemic was important to show us that life is unpredictable and we need to value everything that really matters to us.
As you have already performed abroad, we need to ask: what is the thrill of playing again?
Unfortunately, the situation in Brazil is still complicated, but here in the United States everything is already being reopened and the shows are happening. Everyone can already be vaccinated in the country, so the first thing I did before starting the shows again was running to get vaccinated. The first time playing to a crowd, after months of social isolation, was amazing! People longed for this moment.
Where does your inspiration to DJ come from?
The world we live in is so turbulent that the only time I feel like I can be myself and forget about all my problems is when I'm on stage. If I can somehow bring a little joy to people who, on a daily basis, suffer from all kinds of problems, this is my inspiration!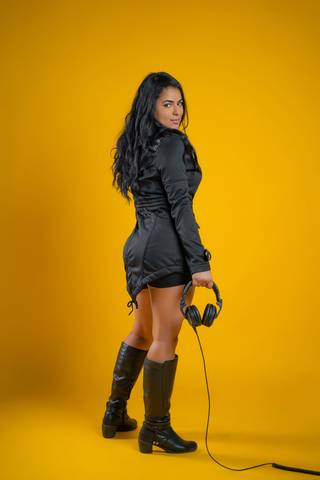 In your opinion, what do you think is essential to become a good DJane?
Without talking too much about technique and focus, which are essential, every DJane needs to have a lot of determination. Everyone knows it is not easy for a woman to be in the industry of music. We suffer from the most diverse types of prejudice and there is also much more probability of abuse attempts. You have to know how to be strong and fight like a woman. I also believe that you must always remember where you came from and where you are going, recognize the love and affection of the fans, which are our strength, and understand that each one has an essential role on your career. Being DJANE or DJ doesn't make you better or worse than anyone else. Humility and strength are the most important things.
How important is it for DJanes to support identity and social movements, such as the causes of the LGBTQIA+ community?
The main importance of defending causes of LGBTQIA+ community is simple. There's is no sexual option, and for this reason it shouldn't even exist a discussion about that. There's no reason why we should separate "groups" there are no "Groups" there are just people, equal people, with love for music. I'll always say that we are all entitled to the same rights and to love music as something in common, unfortunately this is such a shallow world. It's important to show people that the love of music unites everyone and everything!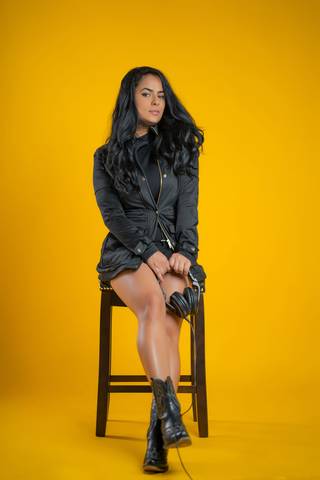 Well, to finish! After so many years dedicating yourself to the electronic scene, what would you say to people who have followed your career since the beginning, among fans, DJs and friends in general?
I would say that I am eternally grateful to all the people who supported me and were with me throughout my career. Achieving this dream was not easy. Since I was 12 years old, I've been struggling to get here and I wouldn't be the same if there weren't these people by my side. What I can do to make my fans' experience even more amazing through music, I will certainly do.
Follow Thay Rodrigues:
Instagram | Facebook | SoundCloud | Spotify | Mixcloud