You are here
READ NOW! Fashion Interview with it-girl Lana Scolaro is Out!
Today's topic is fashion! We had a talk with a DJ and a fashion blogger, who shares her fashion looks in socials and earns thousands of likes and enthusiastic comments. The aim of our mag is not only to support female DJs, but also to reveal the individuality of each girl from different sides of her personality. 
"I'm Lana Scolaro, I'm 22 years old and was born in London and grew up between there and Monte Carlo. When I turned 18 I moved to New York to study film at Parsons the New School for Design, I then realised that school wasn't for me as I always wanted to be independent. I was always creative so I questioned myself what my talent was. I decided to start sketching out jewelry designs and ultimately turned my designs into a moving company which I own now, LS Diamonds (LSD). Since 13, I would spend 5 months in Ibiza with my family during the summer where i was hanging out with big djs which inspired me to make produce my own music. I played guitar and cello since the age of 12 but decided to take up keyboard and learn how to use production on abelton live and Logic Pro. I've also always loved to write poetry so I would write songs all the time and keep them in my notes while finding the melody to each beat I had. This year has been a big turning point for me having already dj'd at some of the biggest venues in Ibiza, Paris, Los Angeles, Monaco and now Miami where I will release my first single "Aks On My Chain," which I wrote in Los Angeles where I currently reside. I am now working on an EP which I will be releasing in the new year."
WANT TO KNOW MORE FACTS ABOUT LANA? READ OUR EXCLUSIVE INTERVIEW BELOW:

DJANEMAG: You've made a name for yourself as an icon in style and fashion. How did you cultivate your style? 
Lana Scolaro: my style alters according to my mood. I've always been a bit of a tomboy so I like to mix street style with chic and glamour. 
DJANEMAG: What is your attitude to fashion and What place fashion plays in your life?
Lana Scolaro: I think fashion should come from the heart, not what you see or read in magazines and online. I have always thrown on whatever I think feels comfortable but looks gangster and chic at the same time. I've never been one to colour match my entire outfit or copy someone else's complete look. 
DJANEMAG: Have you participated in an advertising campaigns of fashion brands in your country or abroad? 
Lana Scolaro: I did an ad for Gucci Eyewear, modelled whether on instagram or live for brands such as Dolce & Gabbana, Lipsy London, VOSS water, Honeybum in Los Angeles, Shop Betches in Los Angeles, MyBrand in Amsterdam, shopkdot in London and so on... 
DJANEMAG: wWOWw!!! Do you like to attend fashion shows? Have you ever perform as a DJ or a model on fashion show? 
Lana Scolaro: I attend almost every fashion show in Milan, Paris, London and New York when I can make it. It's like a ritual for me as I'm so obsessed with being inspired by others creativity.
DJANEMAG: Name three of your favorite brands of clothes. 
Lana Scolaro: 3 of my favourite brands? Damn there so many Gucci, Vetements, off white/ Supreme and Tom Ford / Louis Vuitton 
DJANEMAG: Describe your favorite outfit in which you feel like a queen.
Lana Scolaro:  my favourite outfit is something like a whole load of LS Diamond chains hanging around my neck and a Gucci headband with my camo Thrasher jacket and some Kappa pants with a good pair of Jordan's or Nike off Whites. 
DJANEMAG: Must have of this season is...
Lana Scolaro: Everyone should own the supreme x LV collab satchel. It's a must 
DJANEMAG: Which fashion trand do you consider the most rediculous?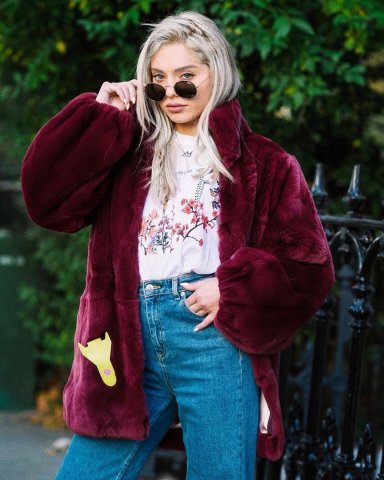 Lana Scolaro: I personally don't like it when people try too hard with trends and throw on every brand that's in at the moment on one outfit. I think style should look and be effortless where you can mix up vintage with new. 
DJANEMAG: As a DJ you probably travel a lot around the world! What city is the best for shopping?
Lana Scolaro:  Milan is definitely my favourite city for shopping
DJANEMAG: Any final words, or advice for our readers?
Lana Scolaro:  My advice to my readers: keep chasing your dreams, it's never too late to start something new, I only just discovered my passion which was there this whole time I just never followed through with it. Choose one or two things you truly love to do and stick to it, don't let anybody tell you otherwise. 
Dear friends, follow amazing Lana Scolaro, not to miss updates: 
Instagram: Lanascolaro 
Dj Agency: The Books Dj Agency
Twitter: LanaScolaro
YouTube:  https://m.youtube.com/watch?v=9pE-HBMv0xg
Soundcloud: www.soundscloud.com/Lana-Scolaro
Mixcloud: www.mixcloud.com/lanascolaro
Lana Scolaro - AKs On My Chain (teaser) is available also on djanemag.com! WATCH NOW!