You are here
Read Now! Exclusive Interview with a young DJ Crystal Girl
We never cease to amaze and delight videos from the Internet, where young children play vinyl better than adults.
The new generation does not get tired of surprising us with thier persistence and their desire to create and develop.
She is a 12-year-old girl, but already a DJ and producer,  successful in her native country, performing abroad, having her own tracks, by the way, the release of the new is expected on Valentine's Day on February, 14.
DJANEMAG had a talk with DJ Crystal Girl, read our interview below. All exclusive with djanemag.com!
DJANEMAG: Hi, how are you? Tell our readers about DJ Crystal Girl! Why did you decide to become a DJ and at What age did you start playing?
CRYSTAL GIRL: Hi, everyone! I'm great, full of new inspirations.
You know, I actually never planned to become a DJ. It all somehow played out, bringing me closer to becoming a DJ and eventually a producer. I'm into music since my early childhood. I first sang into a microphone when I was 1.1 years old. When I turned 3, I was awarded my first Diploma "From a Young Ukrainian to the Great Ukraine" for performing a song "Family Tree" at a local kindergarten. 
Since I was 4years old, I got used to stage performances. From 3 till 9 years old I was going into sport ballroom dancing, and up until I was 9, I sang in a "Ave Maria" chorus. Later I took part and won in various music contests. Later, when I was 6, I attended music school on a piano class. But even before that I tried to compose children's songs and music, and my first royalties at the time I spent on a music sequencer. Since 5 till 10 years old, 12 of the songs I had composed, were published as "My Magic World" Music Book , presented at a special music event on February, 6, 2019.
It was then when I became curious how can I transform those piano compositions into electronic format, an Mp3 or any other suitable for listeners. Once, when I was on a vacation in Egypt, I got myself into hospital , where my English helped me to befriend a doctor. Later he asked me what do I like to do, and I said I was into singing and dancing, and played him my Youtube video on Bon Jovi's "It's My Life" song (which won me a singing contest prize by the way). He then expressed a wish for a chance for anyone anywhere to listen to my songs in a car, on a phone or a radio. That inspired me much, I became even more enthusiastic to continue with my music school and composing. I enjoy music improvisations a lot.
So here's how I got myself into DJing. I've come across an online ad for a DJ School. My parents checked it and presented me with 2 option: either going to aqua park in Poland, or attending the DJ School. Naturally, I chose the second option as I thought id be taught how to compose an electronic music on the first place.
Eventually, I completed the 2-months course in a month only. I tried my best, I was thrilled and I really liked it. By the way, I was the ONLY 10-year old child to becaome a professional DJ not ony in my native town, but on a national scale also (and set a national record as the youngest DJ in Ukraine).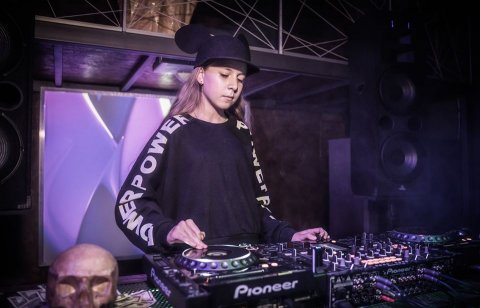 Besides, solfeggio and attending music school in general helped my greatly in turning into DJ.
I'd like to add that it was DJing which really turned me to composing an electronic music. I've installed and used an FL Studio software to compose my "Robotic" track, which I mixed with other tracks while setting a national record (and I've done it all on my own!). I've been told that this track is very much like Apheks Twin music. Furthermore, I was advised to use professional studio to create tracks, as quality software really matters.
DJANEMAG: Was it scary to go on stage for the first time? Describe your emotions.
My first serious DJ performance happened right after my month in a DJ School. I was playing a 2-hour charity open air set on December, 2017, for about 200 listeners. Afterwards many people came to thank me for being so professional at my age of 10. Every such feedback really meant a lot to me, bringing even more inspiration. Event organizers presented me a Diploma which I keep along with my first poster. I was not really afraid to go on stage as a DJ, as I had a background of my previous performances as a singer, dancer and piano player.
As for my emotions, I can say that I feel enormous happiness and joy when I perform on stage, especially when people are dancing and enjoy my play as well, catching each moment of it. So I try even harder to share my music with everyone.
DJANEMAG: How much time do you devote to DJ training? Do you have enough time to study, spend time with friends, hobbies?
No less than 2 hours a day. I can't tell you the exact amount of time, as when I'm into music (attending music school, composing tracks), I lose track of time. But I do it daily, no less than 2 hours per day, even more during weekends and holidays. I continue to self-develop, attending various additional scratching and vinyl courses, constantly practicing, "polishing the crystal")). I also take online master-classes (by the way, right now I'm attending my favorite Armin Van Buren's one, and whom I met last year at ASOT 900 when he visited Kyiv, Ukraine – that was one wild dream that came true). I also studying lots of additional material on production.
I'm a good pupil and enjoy studying. I have lots of favorite subjects, that's English, Computer Science, Humanities. I continue with my music school, piano class.
Not much time left for friends due to school curriculum, I see them mainly on holidays.
DJANEMAG: What are your goals and plans for 2020?
First of all, as I'm only 12, and it's ben only 2 years since I've become professional DJ, I'm planning to continue that way, performing, composing, sharing my work with everyone, dreaming and waiting to be invited by the best music festivals' organizers, producers, artists for performances and various collaborations, as I enjoy improvising and I'm full of interesting ideas aimed at best professionals.
And there's still regular school I must attend, and the rest of course, which I leave for summer holidays. That's when my birthday also is, so it's a family tradition to go for a vacation.
DJANEMAG: You are not only a DJ, but also a producer. Tell us about future releases? When and What kind of music should you expect from a Crystal Girl?
Yes, I'm a producer for myself also, and I'm glad I am. It's a total freedom which positively reflects my work, and the inspiration going with it transforms into new tracks, which I look for the best ways to present. Just a few words about my previous performances to outline my future plans, as I really want the readers to know more about my music (songs) and followed my social media pages)))
In 2018 and 2019 I composed 6 electronic music tracks, I've already got 2 in 2020 and keep going.
In 2019 there were releases of my electronic music tracks with an Italian label Casa Rossa  Label: "Muzyka (Original Mix)" on October, 21, 2019 (Ukrainian "house" style, vocals, music and text are mine, the track is about what music means for me, it's my life – literally from the first lines), and "Trap Sound" (English "trap" style) on December, 13, 2019.
And on my 3rd DJ anniversary on January, 14, 2020, an "Electro Shchedryk" track was released in 240 countries. This is a world-known famous "Ukrainian Carol of the Bells" song, originally written by genius Ukrainian composer Mykola Leontovich, now getting modern vibe in a progressive house style.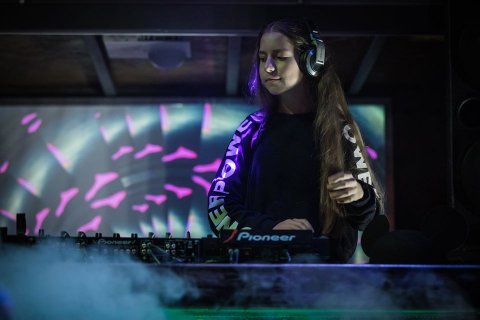 Аnd on February, 14, 2020, there'll be a presentation of my new techno-style track "TECHNO CAR". By the way, famous DJ/producer Robosonic, after private listening to this track, commented "Full support", making me extremely happy and giving understanding I'm on a right track, inspiring me even more.
Track @djcrystalgirl — #TECHNOCAR will soon be available on main digital grounds of the February, 14, the Valentine's Day!
Just a few words about the track: I was inspired to compose it by my trip to Kyiv to host my radio program "Crystal Show (live dj set)" on DJ FM. I'm always on a road, it's about 3-4 hours one way and back. I'm always composing when on the road, especially going o live shows on radio stations. I write tracks in a car, I can play them in it – along with other favorite tracks. On a day of January, 3, 2020, I finally recorded this track in a studio – my first 2020 techno-style track. I'd like to compose a full album, techno-style, and perform it on the best music festivals, national and international!
DJANEMAG: Does someone help you create your own music?
Of course, it's a world, nature, travels, events, everything that happens inspires me, and it helps me create music.
I have a home studio (lacking a bit of upgrade and sound isolation), piano, midi-keyboards launchkey mk 25, roli sea bord, arturia keylab 88, a laptop with professional music software and other stuff to create music and songs.
And of course, there's mastering help from my teacher DJ Deltaplan. He keeps telling me inspiration is the key, so I write in different styles. When it's a song, he records my voice in a studio. I come to him for an advice, I trust his judgement. DJ Deltaplan  for me is like Beno for Armin Van Buren – if you know what I mean))
DJANEMAG: Have you already had any international gigs? Which countries would you like to perform this year?
Yes, I've become a DJ when I was 10, and now I'm 12, and since then I think I've got lots of achievements – performances around Ukraine, international performances in Egypt in 2018–2019; writing and release of tracks, as well as residence on one of the best Ukrainian FM-stations – DJ FM, hosting a  "Crystal Show (live dj sets)" program twice a month.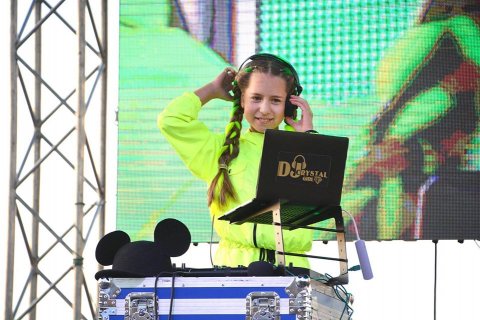 Actually there are many great festivals and concerts, events in Ukraine where I take part. Of course I dream about performing around Europe and wordl-known international festivals, and im eagerly waiting invitations from the organizers.
DJANEMAG: Are there any interesting events/news to share in February?
Actually there're always interesting events and news about me. This February I await official registration of the "DJ Crystal Girl" trademark.
On February, 14, my new track "Techno Car" will be released.
And on February, 21, I'll perform on a grand event – the Third International Event Industry Forum for the 1500 participants, 70 speakers and 5 theme halls with interesting topics and event-service exhibition "Event Expo", Business meeting
room, Training room and first school of the event organizational basics Eventology.Besides that I'll go on with my studying, getting to know and communicate with new people and professionals. Last year I've already performed during the Forum and my success led me to this year's invitation.
FOLLOW DJ CRYSTAL GIRL ACROSS ALL SOCIAL MEDIA NOT TO MISS UPDATES AND FRESH MUSIC.