You are here
READ NOW! Exclusive Interview with America's number one Hardstyle producer DJ Lady Faith
Lady Faith is widely known as one of the best female DJs in the industry. She is a DJ like no other DJ – she will rock you to the bone with her high-energy sets and fantastic skills on stage. She has a growing collection of tracks including chart toppers such as Moxie, Basic Bitch, Bestie and PLUR, with many more in the works.
Read our exclusive interview with America's number one Hardstyle producer and join her army of Faithful. 
DJANEMAG: Let's go back to the start. How did you get into all of this? What was the history of Hardstyle for you?  When did you come in touch with the harder styles of dance music? Did you directly fell in love with hardstyle music? Why did you choose this style to play?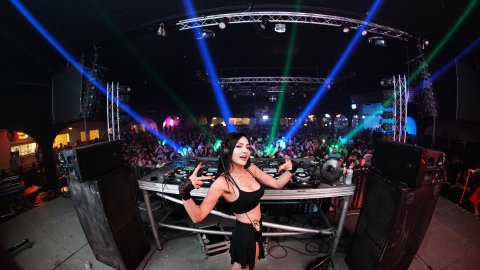 LADY FAITH: When I first started spinning, it was predominately Hard House and Hard Trance. Over the years, I found myself playing more and more Hardstyle tracks and next thing you know, I was a Hardstyle DJ. I really love the sound and the pace of the music. It speaks to me like no other form of music, especially within the EDM realm. My heart will always belong to Hardstyle.
DJANEMAG: Do you have to deal with a lot of challenges starting your career as a female DJ? 
LADY FAITH: Life is full of challenges and anybody who shares the stage understands that there are talented people competing for gigs, laborious time in the studio, rigorous touring schedules that frequently require days without adequate sleep. We all have challenges. For me, as a woman and a minority, there have been a few additional challenges but without fear we would have no need for courage and all I see are challenges that I need to overcome to be a better artist, a better producer and a better role model for my amazing fans.
DJANEMAG: What are your key memories? What have been your favourite moments, either on-stage or backstage?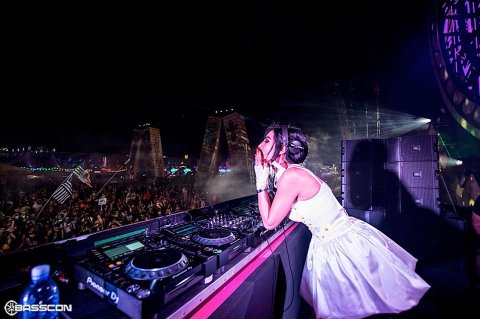 LADY FAITH: There are so many memories in this business. I doesn't matter what part of the world I am in, the fans love the same thing – to dance and feel alive alongside their extended family. When you surround yourself with these wonderful people, new amazing memories happen all the time. I guess some of my best memories come from when I performed in the underground scene, when I first started out. There were some pretty wild nights and some crazy adventures.
DJANEMAG: What's the craziest thing a fan has ever sent you?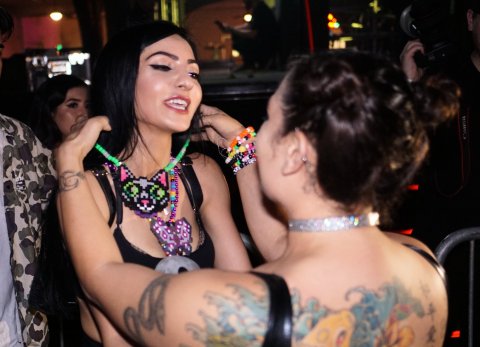 LADY FAITH: I think I have more Kandi from fans than any other artist in the world. I get so many handcrafted masterpieces given to me. The largest is around 8lbs. I love them all.
DJANEMAG: Describe your feelings when you stand in front of huge huge huge crowd of people screaming your name! 
LADY FAITH:  Its surreal. I live to be on-stage and I feel no fear or anxiety before a show. I can't wait to get out to the fans and start bringing the energy. I honestly feel that I was born to be an entertainer and I feel blessed that I get to do something that impacts so many people in a positive manner.
DJANEMAG: What are you most proud of? What were the greatest events in your career so far?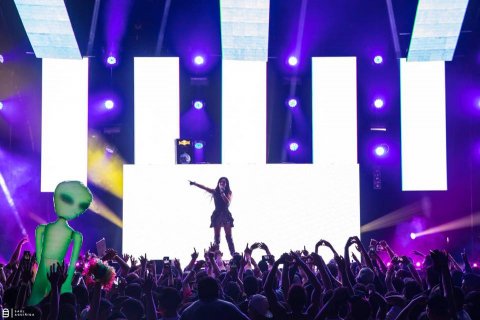 LADY FAITH: I am most proud of how far I have come and how I have grown as a person. When I first started, there was absolutely nobody who thought I could make it, even from my inner circle. I took the leap and made this my full-time career, and now I look back and am very proud of what I have accomplished for myself and the American Hardstyle scene, that is thriving today.
DJANEMAG: These days, as a DJ, you also need to make tracks to stay in the spotlight and show your own style. What do you think about that? Do you like to produce tracks, or is DJ'ing the favourite part? 
LADY FAITH: All touring DJ's must find a balance between time in the studio, time travelling to be onstage and time to just decompress. The DJ'ing part only comes after many backbreaking hours creating music that appeals to a wide range of fans. If you don't have enough original musical content to properly differentiate yourself from other artists, then it can be hard to get noticed. However, if your music is well made and your stage presence and mixing skills are up to a very high level, you have a chance to succeed. It's a tough business. When the fans are screaming your name and bouncing to your tunes, you know you have achieved something special.
DJANEMAG: How can you describe your own style?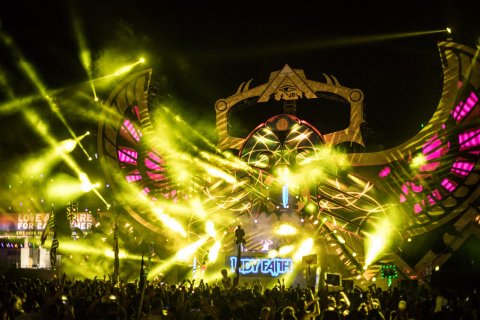 LADY FAITH: I am a bundle of energy on stage. A cross between sexy and sweet, with just enough sour to confuse your senses and for lack of a better word, make you my bitch for an hour. LOL As a pure Hardstyle artist, fast music that just makes you want to jump is my staple. I personally like to bring a lot of emotion into my sets and my music. I think it's the emotional side that has really helped me carve out my own niche in this industry. Hard with Emotions.
DJANEMAG: About producing, Where do you get your inspiration from?
LADY FAITH: I get inspiration from the events that are in my personal life and the lives of those closest to me. I can get it watching a movie or listening to the birds chirping outside. Making a song usually starts with some random inspiration and it grows over time. Sometimes, you start on a track with one inspiration and finish with something totally different.
DJANEMAG: If you had to pick some hardstyle DJs for those new to the genre, whose names would you say?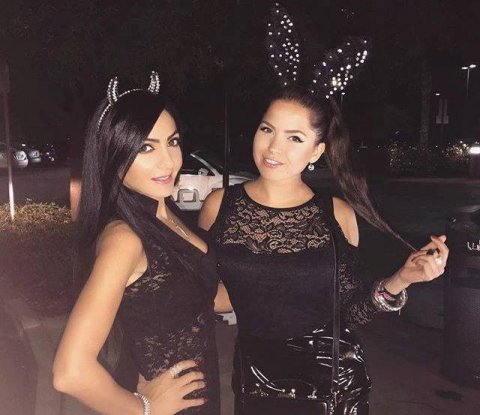 LADY FAITH: If you are brand new to the genre and coming from a slower genre, listen to my Hardstyle first. Being that America was kind of late to the Hardstyle revolution, I have specialized in introducing new fans to the genre and growing the scene. I try to embrace the melodic side of the music, mainly because my main market in America contains a significant number of newish Hardstyle fans and this way, it kind of takes away some of the fear and stigma related to such sonically powerful music. After listening to a few of my tracks, I would recommend new fans listen to anything from Brennan Heart for Dutch Hardstyle, TNT for Italian Hardstyle, Radical Redemption for Rawstyle and Miss K8 for Hardcore. Find out which one really appeals to you, but make sure you start with a subtler more melodic version like the stuff I mainly produce so you can transition properly. Even better, come and see one of my sets. I guarantee it will change your life.
DJANEMAG: Final question; Is there anything you would like to share with us, something exclusive for our readers?!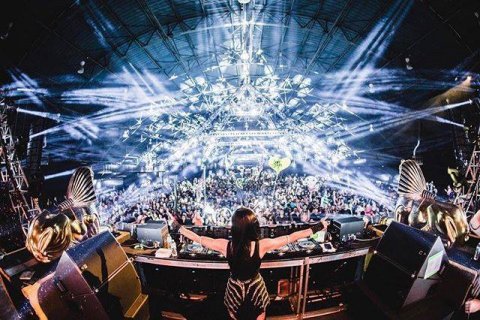 LADY FAITH: Thank you so much for the chance to introduce myself to many new International fans. I have just released a track called "Lick It" available right now and it is the perfect introduction Hardstyle song for you new fans. Check it out and If you like it, please vote for me so that together we can bring American Hardstyle into the major festivals. Only through your voices can we diversify the lineups and bring the brightest talents from across the globe. I love you all. Thank you to all my Faithful, for your unbelievable support over the years.
Enjoy music below, be sure you follow Lady Faith across all social networks not to miss updates and new music and VOTE for DJ Lady Faith from the US at top100djanes.com!