You are here
PLACES TO VISIT: KOKO - London's premier live music and club venue.
The all-new KOKO represents a versatile, 21st century, state-of-the-art venue, adaptable for use as anything - from small intimate comedy to international awards; from intimate gigs to 1,500 capacity headline rock concerts; from stylish cabaret evenings to thumping club nights. 
KOKO began life as a Victorian theatre back in the late 1800s. Then known as Palace Theatre, it acted as a stepping stone for the likes of Charlie Chaplin - remaining a popular venue until the late 1940's when it was transformed into a radio studio, with the BBC using it as the home for the Goon Show throughout the 1950's. 
After a brief spell as a cinema in the 60's, the building was reincarnated as a music venue and as The Music Machine, enjoyed notoriety in the 1970's by providing a platform for many of the first-wave punk bands such as The Sex Pistols and The Clash. In 1982 the club was then purchased by Steve Strange and Rusty Egan of Visage - then in their heyday and known as the Rich Pop Stars. Having come up with the name by which the club was most recently known - The Camden Palace - the venue became a favourite to the leading figures on the New Romantic scene, and in the process hosted the earliest gigs of the Eurythmics and the first UK performance of a rising star named Madonna.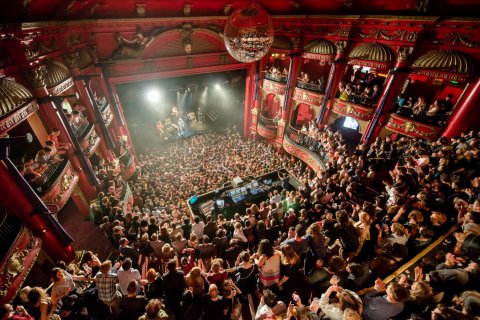 Throughout the 80's Camden Palace remained one of the hottest clubs in London. Hundreds would clamour to enter the club to catch a glimpse of regulars like Wham and Boy George; Prince would hold extravagant after show parties, and with the likes of Grace Jones flying in from the USA just to be seen there its legendary status was assured. 
KOKO's new rooftop bar has opened this Summer. Come down and enjoy drinks in the Camden sunshine. 
Early gig drinks offers available to ticketholders, why not head down and enjoy a drink before the support band?
For tickets follow - http://www.ticketweb.co.uk/venue/koko-london-tickets/kokookf/907