You are here
Pioneer DJ has launched a new line of affordable headphones called the HDJ-CUE1
Pioneer DJ has launched a new line of affordable headphones called the HDJ-CUE1.
These DJ headphones are formed on DNA from Pioneer DJ's pro models but are ready to buy at a much more cheap price. 
Prices start at £59/$69 for wired models and end at £89 for a wireless model. 
Choosing the HDJ-CUE1 model you become a keeper of a product with pro look and quality, rich sound, snug, and adjustable design, and high-quality finish. It would be a sin not to mention their most important features, like:
High-Quality Sound – dynamic drivers empower you to feel the bass and hear mids and top of the line sounds with precious stone clearness, helping you to blend in with pinpoint exactness,
Comfortable Master-Level Design – ear cups rotating 90 degrees, bending & cushioned headband,
Customisable Multicolour Look – 5-colour cable and ear-pads accessory pack available in orange, yellow, green, blue, and pink.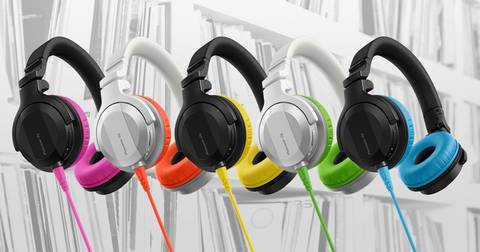 Image Credits: Pioneer DJ