You are here
Fresh interview with Candice Redding is out now!
Candice Redding has shared the stage with some of the biggest acts on the planet - namely Martin Garrix, Steve Aoki, Dimitri Vegas & Like Mike, Kygo, Dash Berlin, Kygo, Hardwell and many more. She has performed at some of the most prestigious platforms such as Tomorrowland Unite, Electric Daisy Carnival (IND), Amsterdam Dance Event (Global Sessions), Sunburn, Vh1 Supersonic and Enchanted Valley Carnival.
DJANEMAG had a talk with international and India's loved DJ and producer Candice Redding. She told us pros and cons of living in India, future collabs, weirdest presents, fans sent her and many many more! 
Read our interview with Candice Redding below! All exclusive with djanemag.com! 

DJANEMAG: Summer is gone and we are interested to know was it hot enough? What were the brightest impressions about summer 2019?
Candice Redding: Oh summer was definitely Hot! At the beginning of the summer, I released a song called Throne, which was so great and such a wonderful experience working with my friend Myris. A lot of tours are always happening in the summer and I did a China tour which was really big and a whole lot of fun, it's really great to be able to break into that market. Overall, I just think it's really amazing to see the industry growing the way it is, there have been so many new festivals which are either in their first or second addition and it's amazing to be a part of them.
DJANEMAG: What are the main events about autumn? 
Candice Redding: In India, autumn is generally when the gig season really begins. I'm particularly looking forward to the organized shows which have a specific audience, the energy at these shows are out of this world.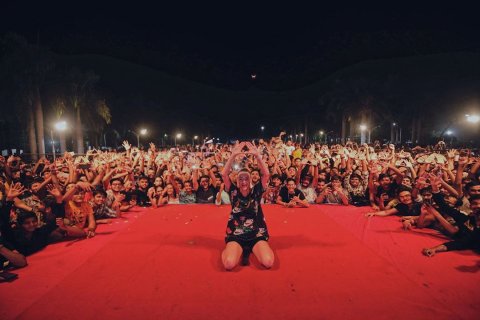 DJANEMAG: We know that during summer almost all DJs are touring a lot! Do you plan to have some rest in autumn or winter?
Candice Redding: Rest? What is that? No, I don't see any time for relaxation in the coming months. The plan is to Hustle and Hustle hard!
DJANEMAG: You are a super energetic person! Your recipe of how to look good and full of joy even in a tour with thousand flights and sleepless nights?
Candice Redding: Lots and lots of coconut water and a vegan lifestyle.
DJANEMAG: Why did you choose India to work and live? What is special with this country? Pros and cons about living in India?
Candice Redding: I chose India because it's one of the most diverse countries that is so receptacle to different types of music. India gives me the opportunity to interact with such huge masses of people. What's special about this country is its people and I've met so many interesting people over the years that have really made an impression on my life. The only con that comes to mind is the pollution, it is not my friend at all but I get by.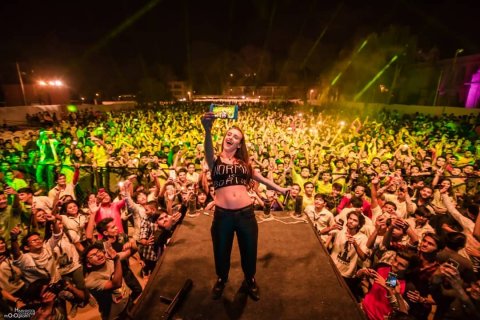 DJANEMAG: You have big fan communities in India, is it possible to go on the street and not to do a single selfy with a fan?
Candice Redding: It's absolutely impossible but it's okay, because my fans are incredible and I love them.
DJANEMAG: What was the weirdest gift a fan presented you with?
Candice Redding: A thong with my face on it and also a little test-tube which contained a green liquid with a grain of rice floating inside that had my name and logo engraved on it.
DJANEMAG: Not all DJs like to work with a microphone. What is your attitude to this aspect of your job? As you perform a lot at big festivals and need to communicate with your audience!
Candice Redding: I believe it's super important to be able to really connect with your audience in that moment. Using a microphone really allows you to have that direct contact and I feel like it's really important to create that.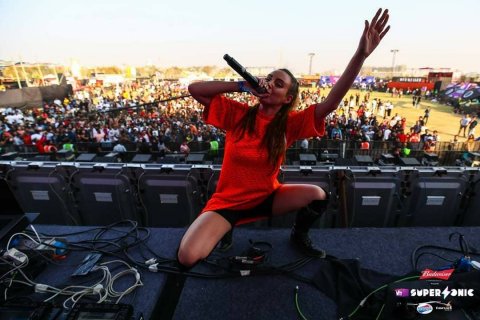 DJANEMAG: Do you have a person, who is the biggest inspiration of your life?
Candice Redding: My mother.
DJANEMAG:Tell us about upcoming music releases!
Candice Redding: Lot's of amazing stuff in the pipeline. I've got about 3 collabs and 3 singles ready, they're all different genres and I'm super excited for everyone to hear it.
DJANEMAG: Any final words for our readers.
Candice Redding:Thanks for reading this article, see you soon on a stage near you!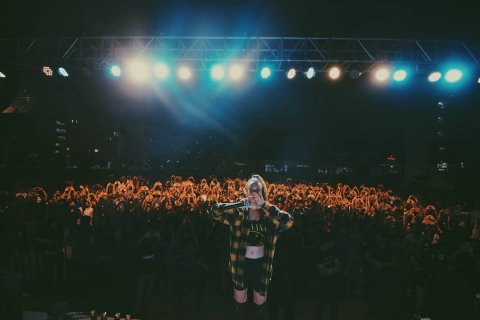 Be sure you follow Candice Redding across all social media not to miss updates and new music!
VOTE for the amazing DJ at top100djanes.com!