You are here
DJANEMAG TOP100DJANES 2018 FINAL RESULTS
Dear friends, DJs, partners and fans! The TOP100DJANES2018 was revealed! Thank you for your votes and constant support, we did our best to show the most objective world ranking among female DJs. We took into consideration the number of votes every DJ received during the year and the additional points, which every DJ gained after a research of her releases throughout the year, a number of gigs, social pages and other important factors. 
This year's voting lasted from March till November and during these month we received letters with votes for more then 4 thousand different female DJs from around the world. So, same as the previous year, we share our TOP200DJANES ranking to show the additional 100 of DJs, because each year the number of high-level female DJs all over the Globe increases and our job is to support more artists and to praize thier hard job and activity during the poll. 
This year, we present absolutely new kind of awards and praize BEST DJANEs of mostly all European countries. This time, we didn't rely only on the results of the voting and points. A survey was done among DJs of each country and among club promoters, booking agencies and almost each person, connected to club culture of the country. You check out the results here: 
Hungary - Viktoria Metzker 
Romania - Nusha 
Poland - Noemi Black 
Estonia - M3RILI 
Belarus - Lia Lisse 
Finland - Milla Lehto 
Norway - Mira Mark 
Denmark - Courtesy 
Austria - Joyce Muniz 
Slovakia - Nifra 
Czech Republic - Rita 
Israel - Magit Cacoon 
Georgia - Newa 
Armenia - Diana 
Greece - Xenia Ghali 
Switzerland - Tanja La Croix 
Sweden - La Fleur 
Portugal - Miss Sheila 
Spain - Fatima Hajji 
Italy - Deborah De Luca 
Ireland - Holly Lester 
Iceland - Dea Tosh 
Bulgaria - Izabella 
Serbia - Lady Lee 
Macedonia - Vaal 
Slovenia - Brina Knauss 
Belgium - Charlotte de Witte 
the Netherlands - Korsakoff 
Turkey - Cielo 
Ukraine - Miss Monique 
Malta - Miss Roberta 
Montenegro - Sofie 
Moldova - DayNite 
Croatia - Insolate 
Latvia - Ksenia Kamikaza 
Lithuania - Samanta 
Like the previous year, we presented the nominations: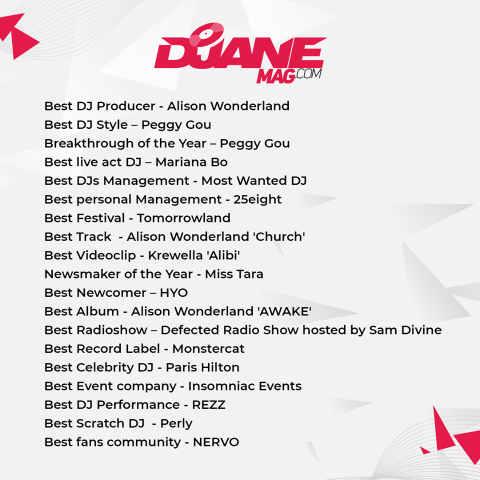 During this year, about 5 online resources copy our work using similar names, logos and design. Be careful! They have nothing in common with us and pursue completely different goals!
What we would like to emphasize, is the problem of fake votes that, unfortunately, remains urgent! We've received a huge amount of fake letters, which, of course, were all canceled. Next year we DO NOT recommend anybody to be engaged in votes falsification, it is nothing but a waste of time and your money, because votes are always handled in a manual way; spam is easy detectable and it is never being counted. Fake votes never help to win in the poll, only real support of site users and fans matter! 
Every year we face the fact that some people don't like the word 'djane' or 'female dj', telling that 'DJ' has no gender. We do not argue with the statement! We do not want to focus on words, let's focus on support! We want to show the World that female DJs are not worse than male. They release amazing music and gather huge stadiums of fans, feel free behind the decks and act as headliners of the biggest festivals and as an equal to men showing their professionalism and talent. We strongly believe that year after year female DJs will occupy higher positions in a global club scene and we are going to do our best to help them with it. 
To cut a long story short, we would like to add, that we are extremely grateful to every DJs who took part in TOP100DJANES 2018 and hope you will stand in the voting next year and help us to determine who deserves to be among the best! Voting for TOP100DJANES 2019 will start on the 1st of March and will finish on the 1st of November 2019. 
Sincerely yours, DJANEMAG. 
Below you will find the list of TOP100DJANES 2018 and TOP200DJANES 2018:
TOP100DJANES 2018
1. NERVO 
2. Alison Wonderland 
3. Nina Kraviz 
4. Krewella 
5. REZZ 
6. Miss K8 
7. Amelie Lens 
8. Deborah De Luca 
9. Charlotte De Witte 
10. Juicy M 
11. Nora En Pure 
12. Nicole Moudaber 
13. AniMe 
14. Monika Kruse 
15. Korsakoff 
16. Peggy Gou 
17. MATTN 
18. Anna Lunoe 
19. Ellen Allien 
20. ZANOVA (Olga Ryazanova)
21. Nastia 
22. Maya Jane Coles 
23. Mariana Bo 
24. Da Candy 
25. Sophie Francis 
26. Groove Delight 
27. Annie Mac 
28. Mija 
29. ANNA 
30. TOKiMONSTA 
31. Hannah Wants 
32. Devochka 
33. Sam Divine 
34. Honey Dijon 
35. Kittin 
36. Ida Engberg 
37. Maeva Carter 
38. Lady Faith 
39. Fatima Hajji 
40. Christina Novelli 
41. Eli & Fur 
42. Chelina Manuhutu 
43. Rebekah 
44. Lady Dammage 
45. Jessica Audiffred 
46. SODA 
47. WHIPPED CREAM 
48. The Black Madonna 
49. Heidi 
50. Deetox 
51. B Jones 
52. BLOND:ISH 
53. Anja Schneider 
54. Marika Rossa 
55. tINI 
56. La Fleur 
57. Ray Ray 
58. Tigerlily 
59. Stephanie 
60. Nina Las Vegas 
61. Fernanda Martins 
62. Yaeji 
63. Pretty Pink 
64. B.Traits 
65. MISS TARA 
66. Monki 
67. Mandy 
68. Giolì & Assia 
69. Mollie Collins 
70. Nifra 
71. Brooke Evers  
72. Avalon Emerson 
73. Flava D 
74. Lady Bee 
75. Magda 
76. CloZee 
77. Tini Gessler 
78. Havana Brown 
79. Giorgia Angiuli 
80. Kittens 
81. ONYVAA 
82. Estasia 
83. Georgia Mos 
84. Rink 
85. Anna Tur 
86. Malua 
87. LOVRA 
88. KAKA 
89. Metzker Viktória 
90. Klaudia Gawlas 
91. Hito 
92. Magit Cacoon 
93. Candice Redding 
94. CRAY 
95. Le Twins 
96. Justine S. 
97. DJoly 
98. Blue Ivy 
99. Eli Iwasa 
100. Faahsai 
TOP200DJANES 2018
101. Eva Shaw 
102. Paula Temple 
103. Cassy 
104. Helena Hauff 
105. ROXY JUNE 
106. BROOKLYN 
107. Amada 
108. Anna Reusch 
109. Nakadia 
110. Kaori 
111. Greta Tedeschi 
112. 2elements 
113. Dani Deahl 
114. Hanna 
115. Juliet Fox 
116. Miss Nine 
117. SURA 
118. Oriska 
119. Natalia Paris 
120. NUSHA 
121. Lizzy 
122. Tanja La Croix 
123. Teri Miko 
124. Lauren Lane 
125. HAAi- 
126. Moe 
127. Brina Knauss 
128. Momis Alanis 
129. Charlotte Devaney 
130. Rossella Blinded 
131. J. Worra 
132. Mayara Leme 
133. Kerstin Eden 
134. JES 
135. Simina Grigoriu 
136. YASMIN 
137. Sofía Cristo 
138. Helena Legend 
139. Samhara 
140. Any Mello 
141. PAROMA 
142. Camea 
143. Rocky G 
144. Lady Style 
145. Cuppy 
146. Marisol Grajales 
147. Yamina 
148. Pinko 
149. Blanca Ross 
150. MOSKI LOVE 
151. Pink 
152. Shei 
153. Louisahhh 
154. DELIZIOUS DEVINA 
155. Margaret Dygas 
156. Barely Legal 
157. PEI PEI 
158. Some Blonde 
159. Goetia 
160. Abril Love 
161. Larissa Lahw 
162. SAMA 
163. Naomie 
164. KATT NIALL 
165. Arra Pascual 
166. MADDS 
167. Amber 
168. Carola Pisaturo 
169. Angel 
170. Lena Estetica 
171. MONICA X 
172. Jennifer Lee 
173. Charlotte Fehler 
174. Lika Flux 
175. Jennifer Cardini 
176. Sara Santini 
177. Licaxxx 
178. Lilly Palmer 
179. Lea Dobricic 
180. Francesca Lombardo 
181. Dana Ruh 
182. DUCKY 
183. Jess Benevides 
184. ADIXIA 
185. Lucille Croft 
186. BLANCAh 
187. Elena Pavla 
188. Nina Suerte 
189. Miss Monique 
190. Kaila Troy 
191. Miss Melera 
192. Siggy Smalls 
193. Alisa Ueno 
194. Mary Mesk 
195. Zeisha 
196. Joyce Muniz 
197. Eclair Fifi ! 
198. Leenata 
199. Ashibah 
200. Vaal