You are here
READ NOW! EXCLUSIVE INTERVIEW WITH DJ OLGA RYAZANOVA: tour life & fans love
We had a talk with Portuguese DJ and producer Olga Ryazanova. This time, we discussed such aspect of the DJ's life as fans.
DJANEMAG: We have noticed for a long time that you have many fans who support you greatly, some guy writes under all posts in our ig , that you are the best DJ in the world, literally under every post with a voting collages !!! Do you personaly communicate with your fans in social networks or there is an admin who does it?
OLGA RYAZANOVA: It is not acceptable for me that someone else can answer my messages, I do it myself and I really enjoy communicating with people. Of course if I receive more than a thousand messages a day, I will need help. Now I cope with it all myself.
DJANEMAG: How do you respond to a request to do a photo with a fan just on the street?
OLGA RYAZANOVA: I never refuse, and even if I'm tired or hurry, I will definitely take a picture.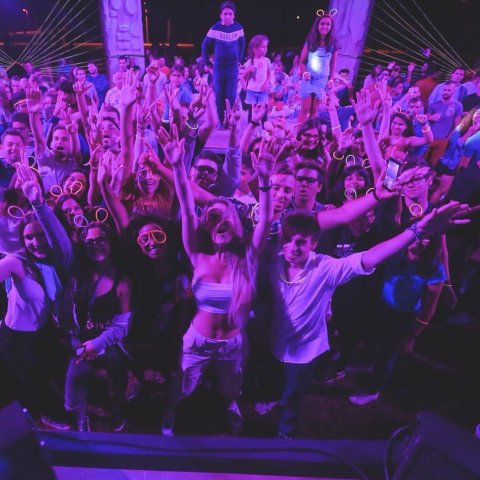 DJANEMAG: What were the most weird/original/expensive gifts your fans presented you with?
OLGA RYAZANOVA: I was presented with soft toys, postcards, T-shirts with my photos, concerning something really unusual or weird - not yet)
DJANEMAG: Is it possible that one of your fan can become your friend?
OLGA RYAZANOVA: Yes, definitely! With some I often communicate in the Internet, someone I met , you never know where you can meet true friends.
DJANEMAG: We strongly believe that love and constant support of your fans will necessarily affect your position in the ranking!
Moving away from the topic of fans, we want to know a little about what was happening in your life recently.
How is your summer?
OLGA RYAZANOVA: I find this summer perfect, most festivals were held on the islands or just in tourist areas, so I saw many beautiful places, and in those days when there were no flights, I rested at the pool, and at night was doing my favorite thing - DJing!
DJANEMAG: Summer is a hot time for DJs, a festival season and lots of parties, would you like to take a vacation despite everything and fly somewhere to rest? Where would you go and with whom?
OLGA RYAZANOVA: Summer is wonderful and despite the large number of performances, I can rest and work and feel good)
In fact, if I just rest, I will be engaged in all those that now (festivals, parties), the exceptance is just at festivals I could not play.
For me, the ideal place is Ibiza, I do not like rest on the beach, I need to communicate with people, music. And Ibiza is rich in all this!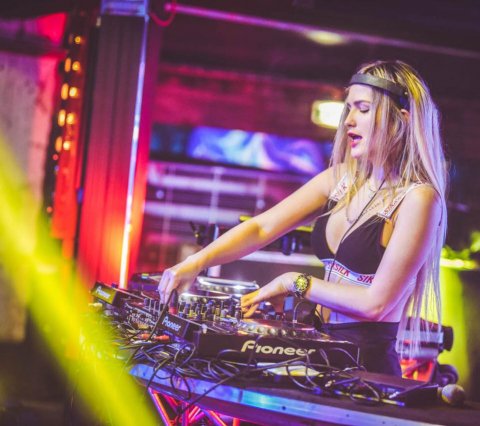 DJANEMAG: The last summer month is very hot, not only because of the weather, but also because of big tour, a huge number of performances are waiting for you, tell us a little about this tour!
OLGA RYAZANOVA: There are really a lot of performances in summer, sometimes not 1 per day! For example. I played at the Medusa festival in Spain during the day, and at night in Portugal, or when I had three performances in different parts of the country on the same day. In the nearest future, I'm waiting for festivals in Portugal and then performing in Italy.
DJANEMAG: After looking at the schedule, we noticed that you have performances in one day in two different countries or three gigs in one day! How is this even possible? How do you manage with all this?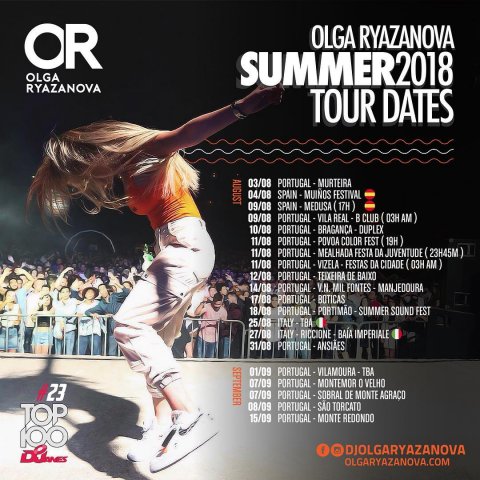 OLGA RYAZANOVA: As far as possible, I try to have a good rest, so I don't see a huge difficulty, in fact. After performing in one place, I go to the next with a positive charge.
DJANEMAG: Share plans for nearest future!
OLGA RYAZANOVA: My new track IS OUT very soon, it's ready and I'm looking forward to sharing it with you all!!!
Dear friends, don't forget to show your love and support and VOTE for amazing DJ Olga Ryazanova at top100djanes.com!